OMATA One KPH (Metric Units / Kilometers / Meters)
OMATA One is a modern cycling computer built around the One, our patented digital-to-analog movement. The OMATA One translates GPS and other sensor data into precision rotary mechanical movement.
As you move, it moves. You can see and feel your effort through the physical motion of dial hands.
We believe the analog presentation of your effort is much more in harmony with riding a bike. You push down on your pedals, feel the physical effort of your legs, heart and lungs — and your wheels turn as the OMATA One's Speed hand rises.
Everyone who takes the time to ride with it agrees: it changes the way they ride. Read the reviews down below from your fellow cyclists who really ride with the OMATA One.
The OMATA One shows five data sets on four digitally controller rotary dial faces: Speed, Distance, Ascent, Time and Battery Level.
With our latest firmware update, you can capture and record data from your ANT+ sensors, like Power, Heart Rate and Cadence.
Our OMATA Utility App (iOS with Android in public beta) allows you to download your rides, review their summary and easily share your rides to Strava.
Data from your rides are stored as standard FIT files, making the OMATA One fully compatible with an existing ecosystem of online fitness services like Strava and Training Peaks, as well as desktop training software.
Included in your Box along with the OMATA One is a USB-A to USB-C cable for charging (and as an alternative data transfer mechanism) and a K-Edge Pro Mount for 31.8mm Handlebar with installed OMATA Insert. (Extra OMATA Inserts are available.)
Beautiful on the Outside
Smart on the Inside
The OMATA One is a full GPS-based cycling computer that captures all of your ride data for sharing to Strava or your favorite fitness service. There are plenty of smarts inside including an ARM Cortex-M3 32-bit MCU, U-Blox UBX-M8030 GPS, MEMS barometric pressure sensor and 3-axis accelerometer. All with enough storage to hold 70 years of rides — if you ride 10 hours a week for 70 years. In other words — it has plenty of storage!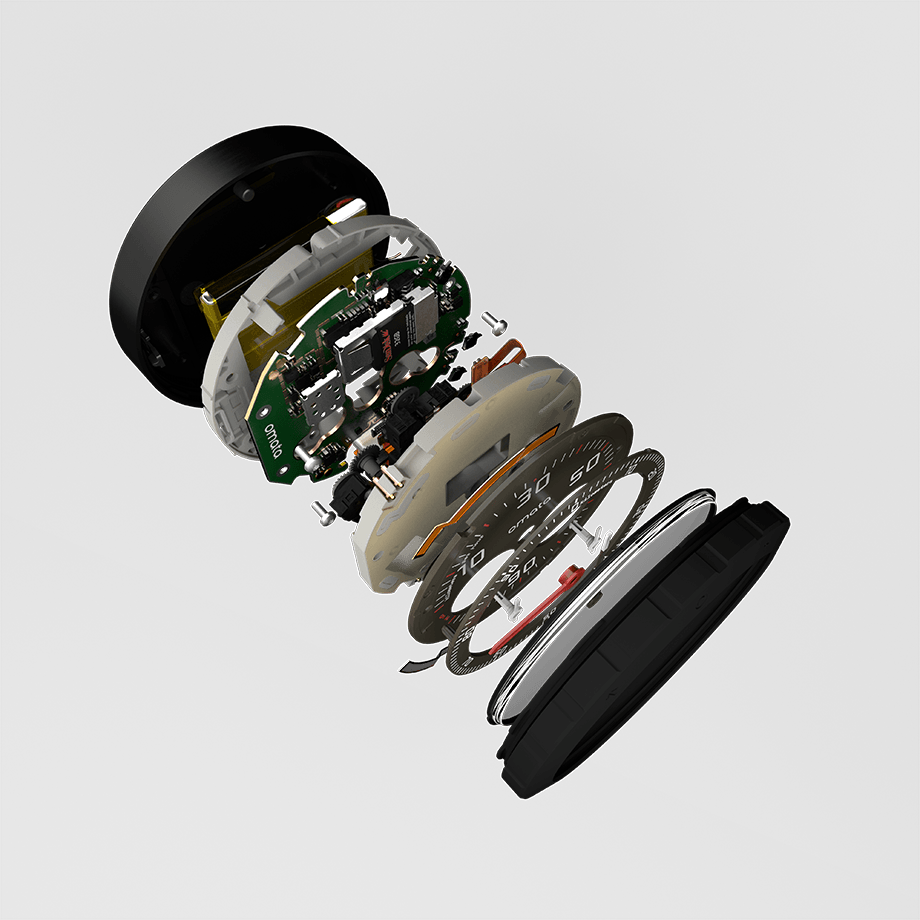 Great service n product
I would say thanks for the great service and unique product. Cheers. Thankz. Looking forward with many epic rides with the omata
My OMATA
Amazing product. I'm a 'techno peasant' I've have everything linked to Strava and it works briliantly. It's a source of pkeasure just looking at it!
とても気に入っています。-from Japan
日本に発送可能です。1週間程度で届きました。関税+¥3000
日本でも問題なく使用できます。
難しい設定は必要ありません。
k-edgeに取り付けてベゼルを回すだけで走り出せます。
重量はやや重めです。
シンプルなデザインは幅広いバイクにフィットするでしょう。
omataアプリで設定や各コンテンツと共有ができます。
とても良い製品でした。
製品のクオリティはとても良い
製品としてのクオリティやディテールはとても良い。ただ、GPSに接続されるのに時間がかかる。私は東京の江東区に住んでいるが、走り出して5分程かかるときがある。
This sounds like the GPS aiding data is not updated. It should be updated every week or two. This is necessary for all GPS devices. It is very easy to do this via the App. Contact us at
support@omata.com
if you have questions.
Love the different style from all others
I like to be a bit different form my other cyclist partner, with Omata, it is for sure!
Tachymètre pour vélo
Omata a produit un "tachymètre" pour vélo: fantastique!
Enfin un indicateur sobre et efficace!
Omata, Omata "Let's call the whole thing off"
Beautiful piece...needs backlighting (yes I ride in the dark)...would prefer if the Speedometer needle started at 12 o'clock rather than 9...very easy to use...feels robust...highly recommend (but don't chuck away your Garmin)!
It's not a tamagotchi - it's an instrument!
Never before, dynamics felt as souverain as this.
Suddenly you won't miss all those extra features - features you never really used anyway. It is like switching from an Apple Watch to the Rolex Daytona.
"Thumbs up" for this highly recommended shortcut back to the analog future...