OMATA One MPH (Imperial Units / Miles / Feet)
OMATA One is a modern cycling computer built around the One, our patented digital-to-analog movement. The OMATA One translates GPS and other sensor data into precision rotary mechanical movement.
We believe the analog presentation of your effort is much more in harmony with riding a bike. You push down on your pedals, feel the physical effort of your legs, heart and lungs — and your wheels turn as the OMATA One's Speed hand rises.
Our new 2020 Firmware, you can capture and record data from your ANT+ sensors — Power Meters, Heart Rate Monitors and Cadence Sensors.
Beautiful on the Outside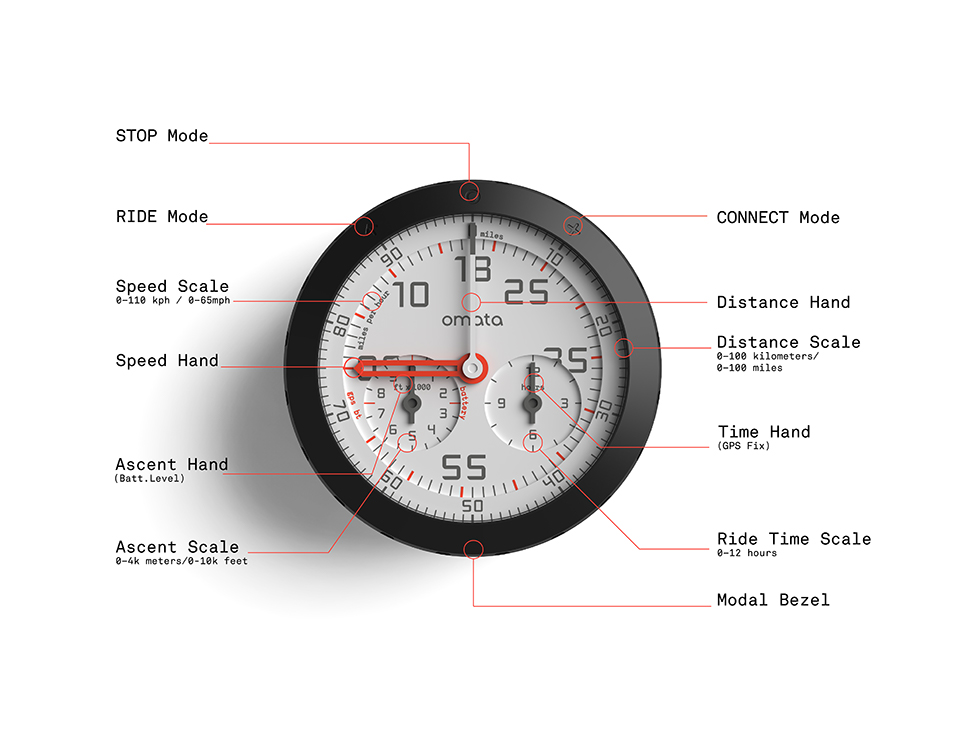 The OMATA One shows five data sets on four digitally controller rotary dial faces: Speed, Distance, Ascent, Time and Battery Level.
Our unique rotating bezel is the primary mechanism for switching modes. Rotate the bezel clockwise to enter RIDE mode. Rotate the bezel counter-clockwise to enter CONNECT mode and upload your rides using our Omata Utility App. When you are done with your ride, rotate the bezel to the center position, END RIDE.
Smart on the Inside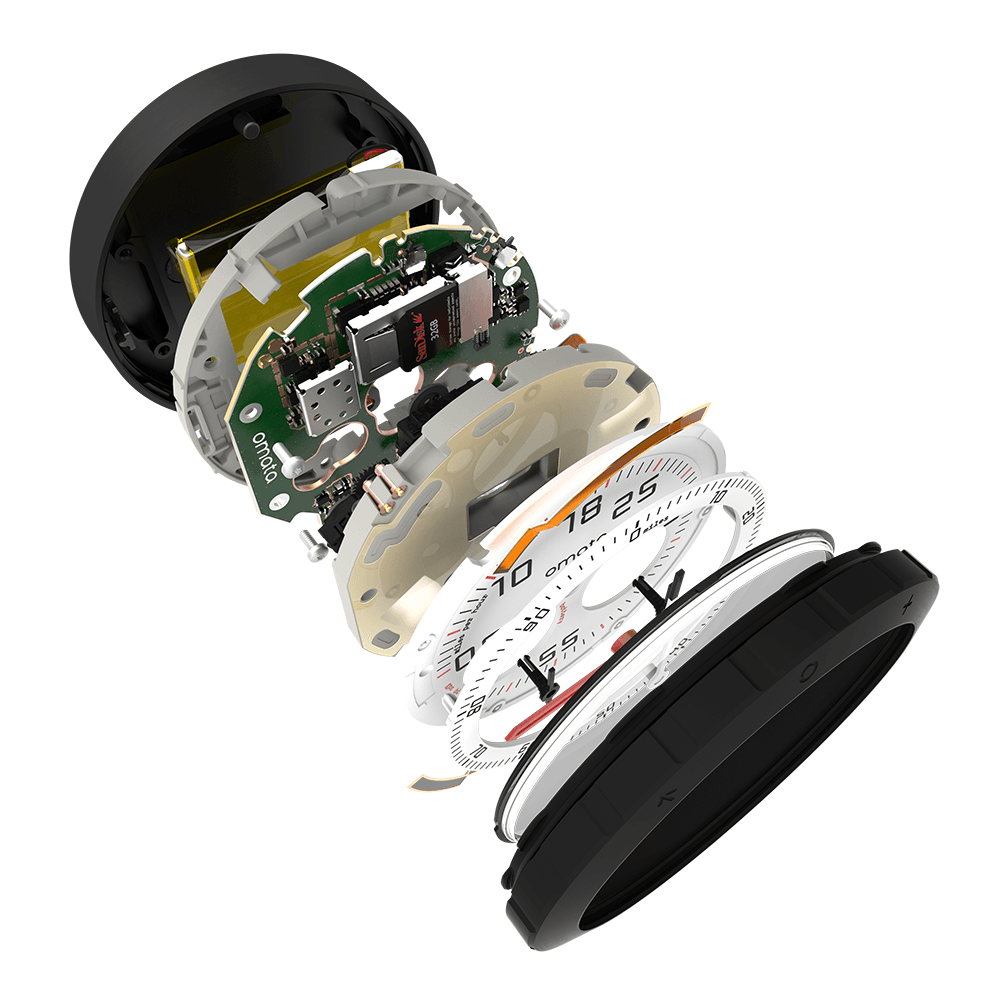 With our new 2020 Firmware, you can capture and record data from your ANT+ sensors — Power Meters, Heart Rate Monitors and Cadence Sensors.
More than that, the OMATA One is a full GPS-based cycling computer with technology that does everything you'd expect a cycling computer to do. It captures all of your ride data for sharing to Strava or your favorite fitness service.
There are plenty of smarts inside including an ARM Cortex-M3 32-bit MCU, U-Blox UBX-M8030 GPS, MEMS barometric pressure sensor and 3-axis accelerometer. All with enough storage to hold 70 years of rides — if you ride 10 hours a week for 70 years. In other words — it has plenty of storage!
Data from your rides are stored as standard FIT files, making the OMATA One fully compatible with an existing ecosystem of online fitness services like Strava and Training Peaks, as well as desktop training software.
Less Zoom More Zoooooom!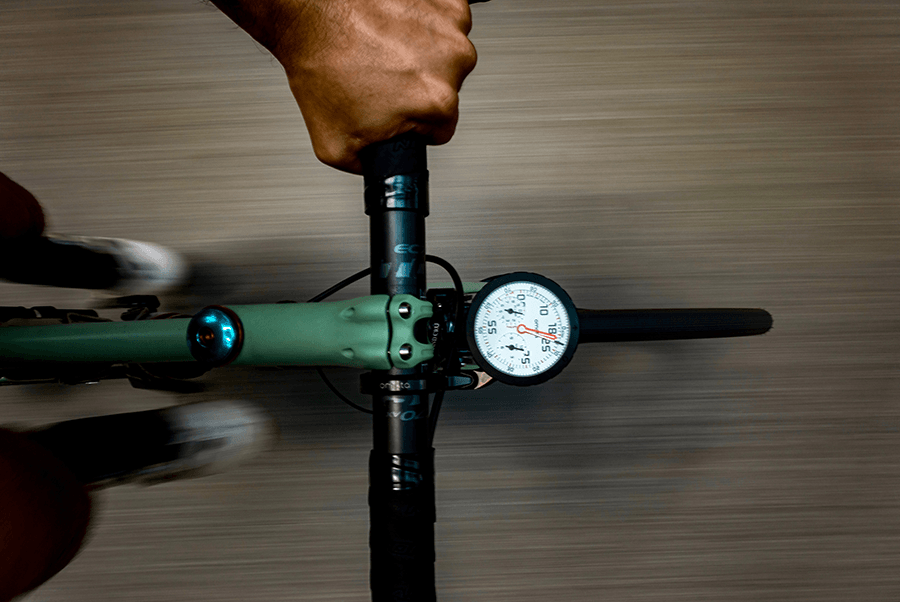 The OMATA One is designed for a world where we are inundated by digital distractions. Why spend more time staring at screens when the point of getting out on a ride is to escape the daily grind of Zoom calls? It's time to focus on what matters most.
Digital mavens — don't worry! The OMATA One tracks your entire ride — it just doesn't beg your attention with beeps and notifications. Much like your favorite mechanical watch, the OMATA One runs on while you enjoy your ride, providing a glanceable view of the data that matters most — SPEED, DISTANCE, ASCENT and RIDE TIME.
Data Never Looked So Good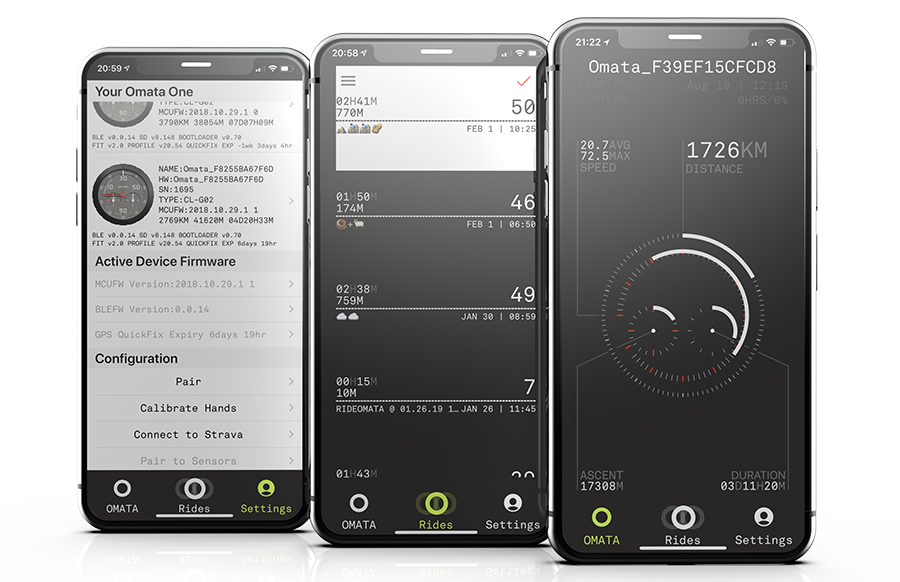 Our OMATA Utility App (iOS with Android in public beta) allows you to download your rides, review their summary and easily share your rides to Strava.
Data from your rides are stored as standard FIT files, making the OMATA One fully compatible with an existing ecosystem of online fitness services like Strava and Training Peaks, as well as desktop training software.
Modern Mechanical Marvelous
An ingeniously sophisticated mechanism that couples digital sensor data to beautifully modern mechanical motion. So ingenious and clever, we managed to get it patented by the US Patent Office — US10053178
We call it "Modern Mechanical". Modern because we believe in the power of digital technology to transform and make beautiful things possible — we just don't like when it's used to distract us from the things that matter most, or coerce to do bad things. And Mechanical because we love things that actually move, especially beautiful mechanisms like bicycles and watches.
Only What You Need And Nothing More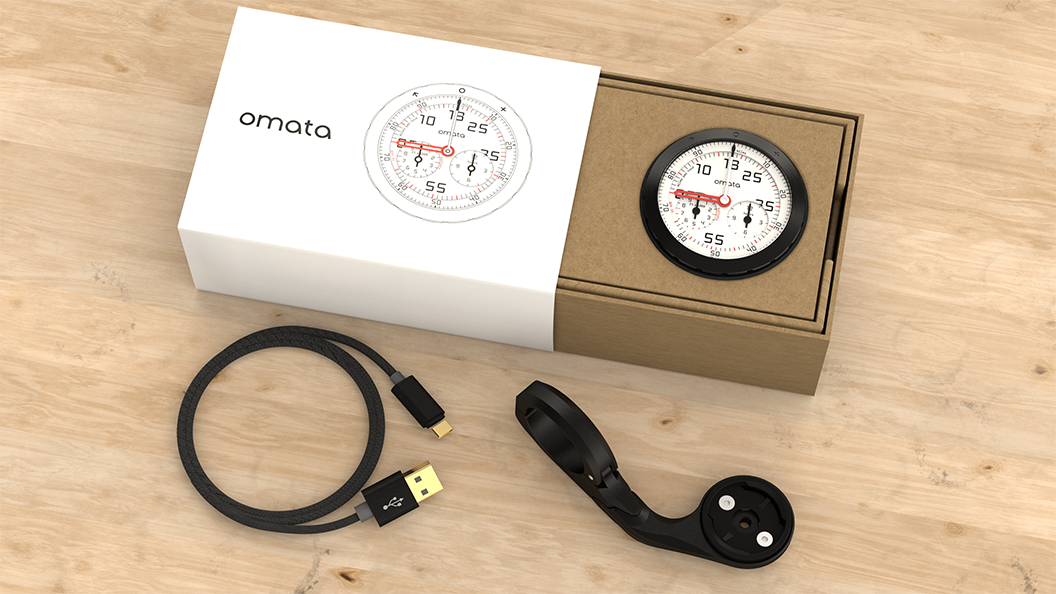 Included in your Box along with the OMATA One is a USB-A to USB-C cable for charging (and as an alternative data transfer mechanism) and a K-Edge Pro Mount for 31.8mm Handlebar with installed OMATA Insert. (Extra OMATA Inserts are available.)
That's it. You don't need much to change the way you ride. With less to bother with and less beeping and data readouts to be distracted by, the OMATA One takes you back to the pure enjoyment of being on a bike without giving up the benefits of tracking your ride for later review.
Everyone who takes the time to ride with it agrees: it changes the way they ride. Read the reviews down below from your fellow cyclists who really ride with the OMATA One.
I love it
I love it, works great, looks great, and being
the analog nut that I am, I'm glad I stepped up
and got it.
Logan hill review
Amazing rides using omata - Everything perfectos
Simplicity
For such a "simple" device, it sure gets a lot of attention. I've been waiting for years for an analog cycle computer that was as cool as the speedometer on my Schwinn Stingray. Only took 40 years. Love it.
Needs Tritium Hands
I like the product a lot but at this price point it should have tritium hands the glow in the dark all the time for 12 1/2 years.
Excellent
I have been using my omata for over a year now and love it! I have recently changed bikes and the handle bar is much thinner so not quite sure how to fit the omata mount to the handlebar. I'll contact support to see if you have recommendations.
A Cycling Computer for Car People
Im a car guy. I like analog cars. I don't race, I ride for pleasure. The data provided, is the only data I care to know. If you are a car guy, this is the real deal for our bikes. Being an analog car guy, pushing dials seemed so simple, but boy how awesome it actually is! It is a piece of jewelry, and would recommend to anyone who gives it a look.
Eddie — you're our kind of guy! So glad you're enjoying your OMATA One!
Quality and precision
Just received my Omata as a Christmas gift have thought about getting one for over a year WOW just opening the box you know your dealing with quality and a precision instrument,cannot wait to put it on the bike.
Thank you to my lovely wife and the guys at cyclefit London.
Functional Elegance.
Over a year of rides on my Omata and loving it. On rides the speedometer is clearly visible day and night (if headlight is in the vicinity... worked great on a 24 hour bike ride with buddies). Numbers are crisp, oozing craftsmanship and simple elegance in the way a cockpit dial just looks cool. The essentials for a ride are clearly visible (time/distance/speed) and you can relive the ride after you're done, quickly/easily downloading data to your phone in seconds afterwards if you're a Strava hound or just looking to find progress in your training. It would be the complete package if it could communicate with power meter and I eagerly await the firmware update for post ride analysis. If you don't care about power and you're just out there adventuring, I can't think of a downside to this unit. Battery life is reasonable (made it about 17-18 hours out of my 24 hour ride if I was turning it off during feedings/rest and weather stops). It has a heft that speaks to its quality and worked reasonably well on a ride I stashed in my back jersey pocket when I didn't have a mount ready to go. I've ride with it only on roads so cannot speak to its backwoods signal acquisition but haven't had any drops in signal that I can detect and no glitches to speak of. Great product that looks and feels like it should in all its analogishisness.
Transformational
I expected it to be great.
But it is so much more than great.
The experience starts as you begin to open the box for the first time. Incredibly well presented, though understated. When you handle the unit you know you have quality right there in the palm of your hand.
Once fitted to the bike and you hit the open road...wow...just F...ing Wow!
It just works so well. Just enough analogue data presented to you to keep it simple and enjoyable - watching those needles move. It's subtly motivational.
Then, when the ride is over, the upload/data transfer process is simple and straightforward.
So many positive and admiring comments from friends and strangers when they see it - especially when they see the speed needle moving.
Can't thank you Omata guys enough for bringing an extra level of simple analogue enjoyment to my riding!
Thank you Andy! Very generous comments!