OMATA Typ. T IMPERIAL (Imperial Units / Miles / Feet)
OMATA One is a modern cycling computer built around the One, our patented digital-to-analog movement. The OMATA One translates GPS and other sensor data into precision rotary mechanical movement.
We believe the analog presentation of your effort is much more in harmony with riding a bike. You push down on your pedals, feel the physical effort of your legs, heart and lungs — and your wheels turn as the OMATA One's Speed hand rises.
Our new 2020 Firmware, you can capture and record data from your ANT+ sensors — Power Meters, Heart Rate Monitors and Cadence Sensors.
Beautiful on the Outside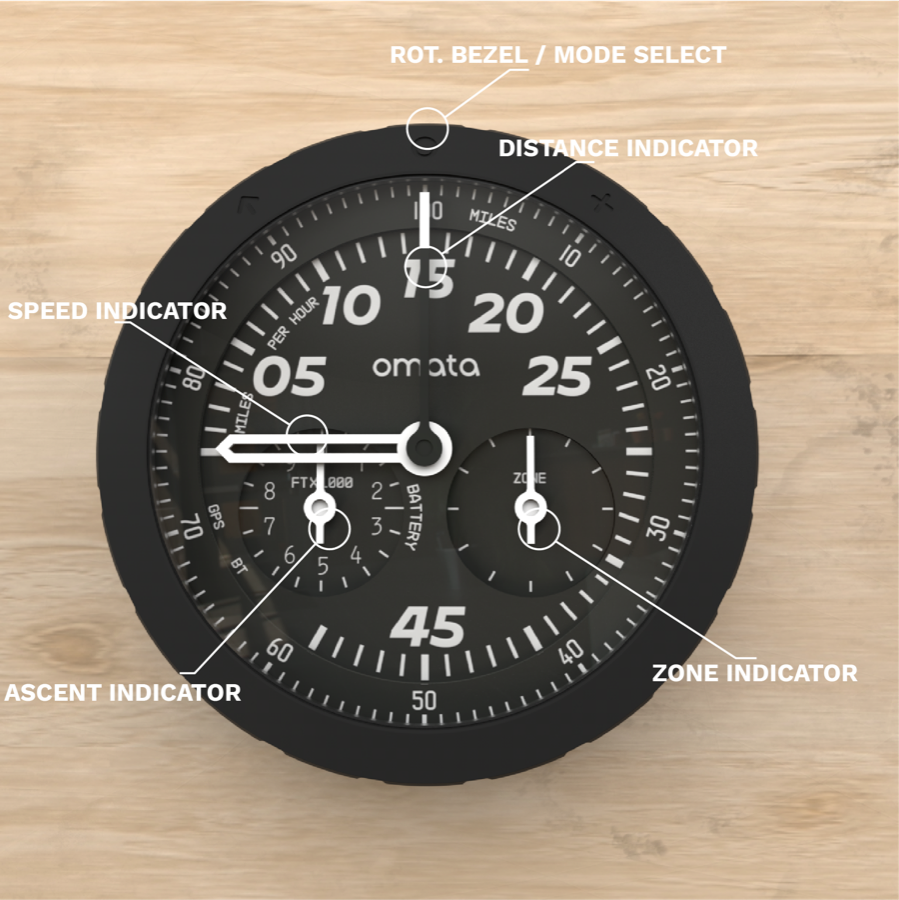 The OMATA One shows five data sets on four digitally controller rotary dial faces: Speed, Distance, Ascent, Battery Level and a configurable "Zone" Indicator.
Our unique rotating bezel is the primary mechanism for switching modes. Rotate the bezel clockwise to enter RIDE mode. Rotate the bezel counter-clockwise to enter CONNECT mode and upload your rides using our Omata Utility App.
Smart on the Inside
With our new 2020 Firmware, you can capture and record data from your ANT+ sensors — Power Meters, Heart Rate Monitors and Cadence Sensors.
More than that, the OMATA One is a full GPS-based cycling computer with technology that does everything you'd expect a cycling computer to do. It captures all of your ride data for sharing to Strava or your favorite fitness service.
There are plenty of smarts inside including an ARM Cortex-M3 32-bit MCU, U-Blox UBX-M8030 GPS, MEMS barometric pressure sensor and 3-axis accelerometer. All with enough storage to hold 70 years of rides — if you ride 10 hours a week for 70 years. In other words — it has plenty of storage!
Data from your rides are stored as standard FIT files, making the OMATA One fully compatible with an existing ecosystem of online fitness services like Strava and Training Peaks, as well as desktop training software.
There's Only One Kind Of Screen You Should Bring On Your Ride
And that's the kind that blocks the sun.
The OMATA One is designed for a world where we are inundated by digital screens and all of their distractions. Why spend more time staring at screens when the point of getting out on a ride is to escape the daily grind of Zoom calls? It's time to focus on what matters most.
Digital mavens — don't worry! The OMATA One tracks your entire ride — it just doesn't beg your attention with beeps and notifications. Much like your favorite mechanical watch, the OMATA One runs on while you enjoy your ride, providing a glanceable view of the data that matters most — SPEED, DISTANCE, ASCENT and a configurable "ZONE" indicator.
Only What You Truly Need, Nothing More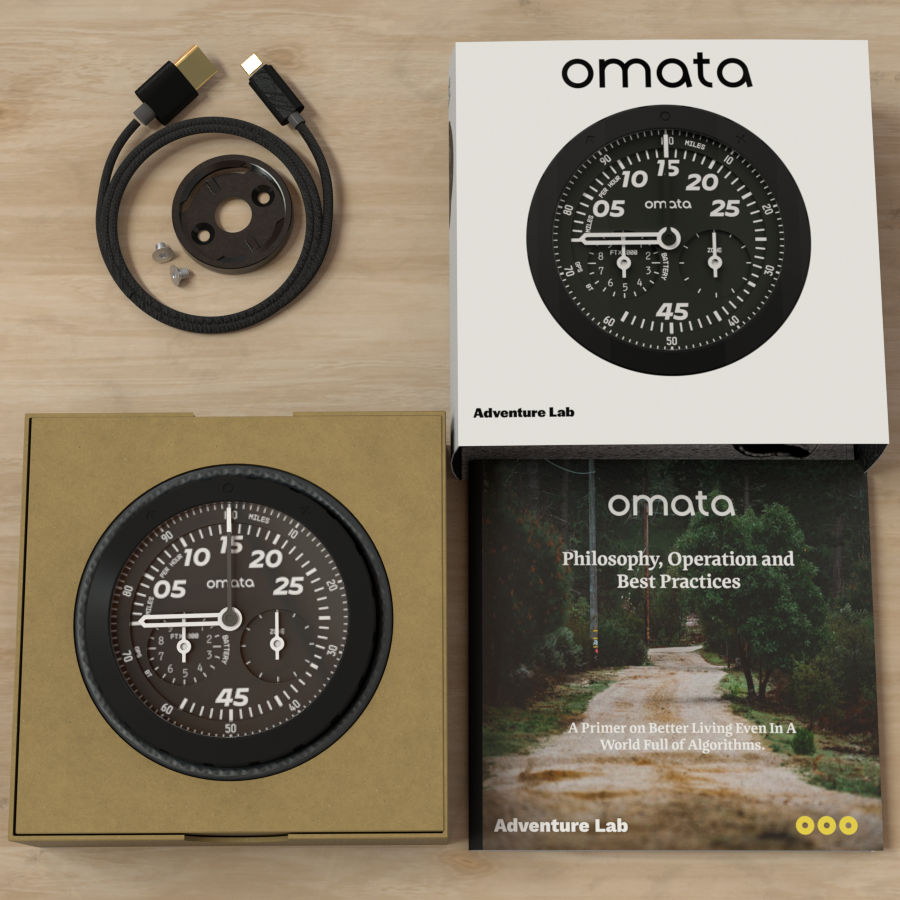 That's right. No digital maps. That's because we believe you'll be fine with your wits — and that smartphone that's in your jersey pocket anyway. Worried about missing a turn or getting 'lost'? If Sacagawea could walk across the uncharted continent without a digital map — and with a new born on her back — I think you can make it out and back on your bike ride, tough guy.
The point is that we didn't want to add complexity to should be a simple thing. We're not chasing features all the way to the bottom like the others. We prefer a pure device for a pure ride. And, there's nothing wrong with learning to way-find — or asking another human for directions. It actually works — and you might make a friend. (A real one. Not an algorithmic one.)